2011 Volvo S60 Driving Impressions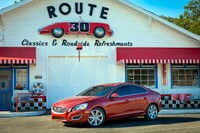 The all-new 2011 Volvo S60 T6 uses a 3.0-liter inline 6-cylinder, making 300 horsepower and 325 pound-feet of torque, which is as much torque as the 4.4-liter V8 engine used in other Volvos. What's more, that torque is fully there at 2100 rpm, all the way up to 4200 rpm.
So when you floor the S60 to pass on a two-lane, as we did on our drive over remote Oregon roads to the wonderfully twisty new Oregon Raceway Park, it will be tremendously satisfying in its quickness and smoothness. You can't ask for much neater and safer passing than this. You can find more awesome acceleration, but no better in the affordable real world.
The 6-speed automatic transmission is controlled manually at the lever. Volvo boasts that this is the sportiest Volvo ever made, yet there are no paddles to shift by, because, Volvo replies, their customers haven't asked for them.
There have been a lot of suspension changes for this new S60, which was tested on old roads in the UK. Shorter stiffer springs, and stiffer bushings. More travel in the shock absorbers. New suspension components, working with front MacPherson struts and rear multi links. A new steering column with faster steering ratio.
Another new system is the Corner Traction Control by Torque Vectoring, which moves torque to the outside wheels to help steer the car around a turn. It solves understeer, not that that's a big problem with the all-wheel-drive Volvo.
There are three chassis choices. Our test S60 was equipped with the standard Dynamic Chassis, but there's a Touring Chassis with softer shock absorbers, not that the ride in our S60 was too firm, because it wasn't. But some people might want a cushy ride more than they care about precise cornering. The third available chassis is Volvo's FOUR-C, or Continuously Controlled Chassis Concept, which is active, meaning sensors change the settings depending on the road and driving style. The driver can set Comfort, Sport and Advanced.
We were fine with the standard Dynamic Chassis, both on the road and the track. In fact, the two-lane roads to the track were a better test than the track itself, because in a few short laps you couldn't learn the track well enough to push the S60 to its limits. It strolled through the easy challenges to cornering and brakes, on the track. And on the highway it gave nothing but pleasure, but proved that it can handle rough surfaces while cornering tightly. In short, the S60 felt solid and precise without feeling heavy.