2011 Volvo XC70 Introduction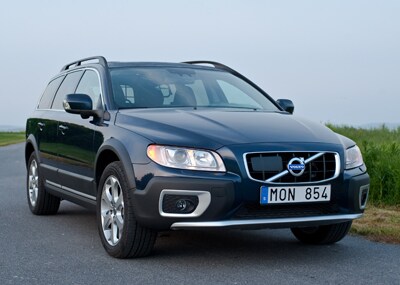 The Volvo XC70 is an impressively versatile wagon. It's smooth, stable, secure, fast and very comfortable on the open highway. Most come with all-wheel drive, which makes the XC70 a good choice for foul weather, be it torrential rain, deep snow or glare ice.
But it's on primitive roads where the Volvo XC70 shines. It handles gravel and dirt roads very well, with stable, predictable handling and excellent traction. Indeed, it can dispense with unpaved roads quickly and ably. The XC70 is engineered for serious gear hauling rather than posing at the mall. And of course it's equipped with all the active and passive safety features that form Volvo's well-deserved reputation for safety engineering.
For 2011, XC70 gets a horsepower boost in both engines. The 2011 Volvo XC70 3.2-liter inline-6 gains 5 horsepower to 240 hp, and the 2011 Volvo XC70 T6 gets a 19-hp boost to 300 hp from its 3.0-liter turbocharged inline-6. The turbocharged T6 engine was named one of Ward's Ten Best engines for 2011, a prestigious award. It's the first Volvo engine to ever win.
For 2011, Volvo XC70 3.2 is available with front-wheel drive for the first time. That should appeal to flatlanders in warm weather, for example Texans and Floridians, although it seems a shame to pass on the all-wheel drive.
For 2011, Sirius satellite radio become standard equipment and comfort and convenience packages have been upgraded. 2011 also brings some amazing price drops, by nearly $4,000 for the 3.2 and more than $6,000 for the T6.
All-wheel drive comes standard in those models. The XC70 3.2 comes with a powerful inline-6 rated at 240 horsepower and 236 pound-feet of torque. The high-performance XC70 T6 boosts the power to 300 turbocharged horsepower and 325 pound-feet of torque, the latter an increase of 30 lb-ft for 2011.
Its maximum cargo capacity of 72.1 cubic feet is on par with mid-size SUVs, and slightly better than the Subaru Outback's 71.3 cubic feet. The seating arrangement is flexible and the cargo compartment has tie-downs and other useful accessories. With the rear seats folded, the XC70's flat floor and low lift-over height make loading bulky cargo easier than with many SUVs. It's rated to tow up to 3,300 pounds, enough for a small boat or camper or a couple of snowmobiles.
The XC70 is prepared for serious travel in unpaved areas. It comes with full-time all-wheel drive, and its suspension is raised to increase both movement range and ground clearance. Dent-resistant lower body cladding and protective skid plates underneath protect it from damage. Standard Hill Descent Control makes ascending steep, slippery trails easier and safer.
We found the handling of the Volvo XC70 on primitive logging roads to be excellent. This would be a good car to drive to the top of Alaska in the middle of the winter. We know, we've done it. More recently, we drove an XC70 over 120 miles of logging roads in the unpaved wilderness of northwestern Montana. The all-wheel drive made driving around corners easy and predictable on gravel, dirt, mud, and snow. The suspension had just the right amount of compliance to keep the tires on the trail yet gave the driver lots of control. Bumps in the middle of turns never upset the handling. The car was comfortable, whether creeping along over rugged trails or hurtling down an unpaved road at rally speeds.
On paved roads, the XC70 is stable and comfortable. It isn't as sporty as the pavement-oriented Volvo V70 wagon, but the XC70 makes a good grand touring car and great daily transportation. It rides smoothly and doesn't float or lean excessively through the curves, and it should deliver better real-world gas mileage than most mid- and full-size truck-based SUVs. We think it's the most compelling car in the Volvo lineup.
Inside is one of Volvo's best interiors: Scandinavian in style and elegantly understated. It's easy to master its multitude of controls, and it's simpler and more efficient than many of its European luxury competitors.