2011 Volvo XC90 Driving Impressions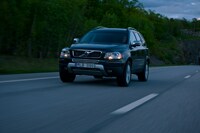 The Volvo XC90 is pleasant to drive. It isn't particularly bulky or even hard to park, nor mundane in a people-mover, family wagon fashion. Many of the driving characteristics common to Volvos, including a hefty, solid demeanor, deliberate steering and a soft brake pedal, seem to go better in this sport-utility than in a sports sedan.
The 3.2-liter inline-6 lacks the immediate rush of acceleration generated by some higher-performing power plants, but it has plenty of power and flexibility. The torque flows evenly, meaning there is more even acceleration at any engine speed, and typically for an inline-6 it feels smooth nearly in all circumstances, from idle to full-throttle acceleration.
Forward momentum is aided by the responsive 6-speed automatic transmission that comes standard on all XC90s. It includes a Geartronic manual shift feature that lets the driver shuttle up and down through the gears if he or she is feeling racy, plus it's sometimes useful to reduce shifting in hilly terrain.
Fuel economy is an EPA-estimated 16/22 mpg City/Highway for all XC90 3.2 models. We averaged 20 miles per gallon in a mix of city and freeway driving.
All-wheel drive is a good option for owners in the Snow Belt as well as in climates where it rains a lot. The all-wheel-drive system operates seamlessly, and the driver will almost never know when it's working. In normal, good-traction conditions, 95 percent of the engine's power goes to the front wheels. If those wheels lose traction, a multi-plate clutch begins routing power to the rear, to a maximum split of 65 percent to the back tires.
The XC90's silky smooth feeling at 80 mph impressed us. Its chassis closely follows the design of Volvo's Cross Country wagon, though it's wider and the components are beefier. The XC90 handles bumpy roads with dips and gullies well, without crashing loudly or bottoming when driven hard. It doesn't offer the sporty handling of a BMW X5 or Infiniti FX35, but some of us prefer it. The Volvo's power rack-and-pinion steering is on the heavy side, and not particularly quick in sharp curves yet the XC90 doesn't wallow or sway excessively under hard cornering. The electronic stability system, called DSTC, stepped in a few times when we were thrashing down a particularly ornery road, and applied the brakes at one wheel without cutting engine power. It worked as intended, and helped keep the XC90 going where we intended while driving at rate few owners will care to undertake.
Ride quality in the standard XC90 is very good, and stiff at the wheels but not in the cabin. It doesn't exactly absorb the ridges and bumps, because you feel the suspension working over them, but it doesn't transfer any harshness to the arms or seat of the pants, either. Speed bumps in particular are interesting: It's as if the suspension challenges them and hammers back, protecting us from jouncing even when we hit them at 15 mph.
The R-Design model comes with stiffer shocks, springs, and sway bars, which we would expect a sharper response to steering inputs and tighter control of body motions, at the expense of some ride quality relative to the standard 3.2. We recommend driving one with the 20-inch wheels before ordering them because they likely will increase ride harshness due to the short 45-profile sidewalls.
The brake pedal in the XC90 can feel a little soft until the driver gets familiar. But once that occurs, that driver can stop the XC90 smoothly and progressively, and very quickly if necessary, with no drama. All XC90s stop with substantial 13.2-inch discs up front and 12.1-inch discs in back.