2012 Volvo C30 Driving Impressions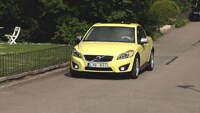 The C30 is the smallest Volvo and the most athletic. Volvo has succeeded in its mission to build a fun-to-drive, sporty car.
The turbocharged five-cylinder engine provides 227 horsepower, and 236 pound-feet of torque all the way from 1500 to 5000 rpm. That means the C30 has good power both off the line and in highway passing maneuvers. The engine is responsive, with a minimum of turbo lag. Torque steer, felt through the steering wheel as a slight pull to one side under hard acceleration, is well checked, which is impressive for a front-wheel drive car with this much power.
With the standard 6-speed manual transmission, the C30 is capable of sprinting from 0-60 mph in just 6.2 seconds. That's quite quick. The shifter throws are long and rubbery, but it is easy to shift.
With the optional automatic transmission, 0-60 mph comes in 6.6 seconds, which is still quite quick. The automatic transmission kicks down quickly when extra power is needed. It has a manual shiftgate for more driver control, but the C30 lacks the steering wheel-mounted paddles found in some of its competitors.
The turbocharged five-cylinder engine offers a nice balance of power and fuel economy. It gets an EPA-estimated 21/29 mpg City/Highway with the manual transmission, and an even better 21/30 mpg with the automatic.
On the road, the C30 handles well, with flat cornering and fine balance in quick changes of direction. Steering in both models is direct, but it could stand to be a little quicker in the C30. Slow steering and big steering wheels are traditionally part of the Volvo driving experience.
The Sport Chassis in the C30 T5 R-Design provides enhanced chassis dynamics and steering reflexes. Spring stiffness is increased by 30 percent while the dampers feature a new mono-tube design that build-up pressure quicker for 20 percent increased low-speed damping. Steering is more precise with stiffer bushings and a 10 percent quicker steering ratio. The R-Design model allows more road feel through the steering wheel and its responses are sharper. However, when we got the R-Design on the track on a day we also tested many other high-performance cars, its on-track handling was only mid-pack. Not so with the Volvo S60 R-Design, so it's just a C30 thing, not a Volvo thing.
Both models have a firm ride, but the base T5 is smoother. While neither model feels harsh, the R-Design is more prone to pounding over sharp bumps. The T5 is close to the surprisingly refined VW GTI for ride quality, but the R-Design has a rougher ride. The C30 looks better with the R-Design's body-color aero kit and 18-inch wheels, but you'll want to try it before you buy, especially if you live in an area with bad roads.
The brakes have good pedal feel and fine stopping power. Brake Assist and Electronic Brake-force Distribution assist the driver in emergency stopping situations. While the C30 is light on luxury content, it's heavy on safety content and engineering.
But we'll save the best for last, and that's the Polestar upgrade. Like downloading faster software into your computer, you can take your C30 to your dealer, and in a few minutes he'll pump it up from 227 to 250 horsepower, and 236 pound-feet of torque to 273. The software upgrade to your ECU (or ECM, for engine control module) increases turbo boost; changes spark timing, fuel mixture, and several other parameters; and quickens throttle response.
The result is a decrease in 0-60 time from 6.2 seconds to 5.9 seconds, with the 6-speed manual gearbox (the automatic is slower, at 6.6 seconds). Three-tenths of a second doesn't sound like much, but we really felt it, testing both versions back to back. Also, the horsepower climbs for another 500 rpm, from 5000 to 5500. Even more than that, you can feel the torque just keep climbing; in the stock T5, it peaks quickly at 1500 rpm and stays there to 5000 rpm; but in the Polestar version, it leaps another 10 percent to 1600 rpm and climbs to its peak at 3000 rpm, and that's what gives you the rush. So if the only thing holding you back on the C30 is a need for kickass acceleration, no worries no more.