2012 Volvo C70 Driving Impressions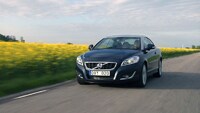 The Volvo C70 seems to be made for highway cruising. The car is smooth and steady at freeway-plus speeds. And with the steel top, there's no ragtop racket at high speed. The C70 doesn't accelerate that quickly, so it would take a while to reach its electronically limited top speed of 149 mph.
The C70 uses front-wheel drive and Volvo's well-proven 2.5-liter turbocharged five-cylinder engine, rated at 227 horsepower and 236 pound-feet of torque for the T5 model, and 250 hp and 273 lb-ft. on the Inscription model. The flat torque curve puts the power to the front wheels evenly and makes the car highly responsive. Both come standard with a five speed automatic transmission. Volvo estimates a 0 to 60 mph of 7.4 seconds for the base T5, which is about the slowest in the segment.
Fuel economy is an EPA-estimated 18 mpg City and 28 mpg Highway.
We found the 5-speed automatic shifts crisply. It features a satisfying and obedient manual-shift mode for those times when you want a little extra control for shifting or holding a gear.
The brakes work very well. We found them to be resistant to fade on a winding road that overheated the brakes on some lesser cars.
The C70 doesn't feel heavy when you flick it around in the curves. The rack-and-pinion steering is power-assisted and electro-hydraulic, and provides a solid feel. We wouldn't call it light or nimble, but turning the C70 doesn't require a lot of effort. It simply gives good feedback through the healthy leather-wrapped steering wheel.
The same could be said of the ride. The chassis is stiff, a key to crisp handling and a smooth ride. The current C70 doesn't shake like many convertibles do, another benefit of the rigid chassis.