2012 Volvo S60 Driving Impressions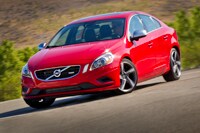 The Volvo S60 T5 gets an EPA-estimated 20/30 mpg City/Highway and, according to Volvo Cars of North America, can accelerate from 0-60 mph in 6.8 seconds.
The S60 T6's 3.0-liter inline 6-cylinder makes 300 horsepower and 325 pound-feet of torque over a broad range, from a low 2100 rpm up to 4200 rpm. When you floor it to pass on a two-lane, as we did on remote Oregon roads, it's very satisfying: quick and smooth. You can't ask for much neater and safer passing. You can find more awesome acceleration, but at 5.8 seconds from 0 to 60, according to Volvo, the T6 looks real good in the affordable real world. Fuel economy is an EPA-estimated 18/26 mpg.
Take the S60 R-Design with 325 horsepower on those same roads, and passing gets even better. There's more torque too, but it comes in a narrower band, 3000-3600 rpm. Zero to 60 mph can be accomplished in 5.5 seconds, according to Volvo. Fuel economy is an EPA-estimated 18/26 mpg. Volvo says the new S60 R-Design is not intended to compete with the BMW M3 and Audi S4. Those cars are faster and ought to be, for their price.
The 6-speed automatic transmission uses a console lever, with a manual mode. This is the sportiest Volvo ever, yet there are no paddles to shift by, because, Volvo says, their customers haven't asked for them. Plus it would cost a lot in safety certification, changes to the steering column, etc. In the S60 R-Design, paddles are sorely missed, especially since the shift-lever/center console ergonomics are awkward.
The S60 was tested on old roads in the UK, and the Dynamic suspension developed there. In 2011, shorter stiffer springs and stiffer bushings than before. More travel in the shock absorbers. New suspension components, working with front MacPherson struts and rear multi links, and a quicker steering ratio.
We were fine with the standard Dynamic Chassis, on the road. Our T6 gave nothing but pleasure, and proved that it can handle rough surfaces while cornering tightly. It felt solid without feeling heavy, and was precise.
For those who'd rather have a softer ride than precise cornering, there is the Touring chassis, standard on the T5 and available on the T6.
A more sophisticated choice for the T6 is Volvo's FOUR-C, or Continuously Controlled Chassis Concept, which is active, meaning sensors change the settings depending on the road and driving style. The driver can set Comfort, Sport and Advanced.
The S60-R uses just one setting, which is firmer than Advanced on the Four-C. Even that very firm tuning was okay on the road. But it's for Volvo enthusiasts who know what they're getting, not for the relaxed pace of city driving. Specifically, the S60-R has 15mm shorter and 15-percent stiffer springs; monotube rear shocks replacing twin tubes; stiffer rear bushings, thicker front antiroll bar, and a front strut tower brace.
For all models there's a new system called Corner Traction Control by Torque Vectoring, which moves torque to the outside wheels to help steer the car around a turn, meaning it reduces understeer. We still managed to find big understeer on the Thunderhill track with the S60-R, on at least one corner where even racecars often understeer. Curiously, among the 15 or 20 automotive journalists driving that day, none that we asked felt the stability control come on, to correct understeer. Maybe the threshold is way way up there.
Also, the brakes faded on most of the hard-driving journalists. They smoked on us during our second two-lap sprint, but not after we adjusted our technique and didn't ask so much of the pedal. It will be highly unlikely for the brakes to be used that hard on the road, even with the S60-R.